HOW TO BE A GOOD COMMUNIST by Nelson Mandela the "Great Statesman"
New Evidence Shows Mandela Was Senior Communist Party Member
Source:
http://www.thenewamerican.com/world-news/africa/item/13920-new-evidence-shows-mandela-was-senior-communist-party-member?fb_action_ids=10151215750988051&fb_action_types=og.likes&fb_source=aggregation&fb_aggregation_id=288381481237582
Dear Liberal Fucktards: Do you still think Mandela was a heroic Freedom Fighter?
Mandela is also a vicious racist who cannot stand white people around him for longer than 15 minutes. He starts to get extremely irritable and aggressive if there are too many whites around him for too long.
Even the Red Bishop, Arch Desmond Tutu, critisized Mandela for not speaking out against despotic tyrant Mugabe and his failed state of Zimbabwe. Neither has Mandela spoken too loudly about AIDS that kills 800 people (mostly blacks) every day.
Source:
http://mikesmithspoliticalcommentary.blogspot.de/2012/12/dear-liberal-fucktards-do-you-still.html
Nelson Mandela - communist, terrorist, rabble-rouser!
The Mandela Legend
By Historian Dr Pieter Möller
During a visit to the USA, on invitation of the CP of that country, Hani predicted that South Africa will get a communist government.
"The Communist movement still faces powerful enemies which must be completely crushed and wiped from the face of the earth before a Communist world can be realised." - Nelson Mandela
Aida Parker says that "compassion or feeling for the human condition have seldom if ever played any role in his actions". As early as 1961 Mandela declared: "I and some colleagues came to the conclusion that as violence in this country was inevitable, it would be wrong and unrealistic for African leaders to continue preaching peace and non-violence at a time when the government met our peaceful demands with force."
Many similar statements by Mandela brought millions of young blacks under the impression that the ANC/SACP ideal would be achieved by violence only. In order to mobilise them Mandela himself told them that if they wanted weapons, they must join MK. This recommendation of violence was a free pass to anarchy, and Mandela should take full blame for the violence which erupted over South Africa, and persists to this day. The extent of the carnage is illustrated by these statistics for the five years September 1984 to August 1989: 1 770 schools, 7 187 homes of black owners suspected to be non-members of the ANC, 10 318 buses, 152 trains, 12 188 private vehicles,1 256 shops and factories, 60 post offices, 47 churches and 30 clinics were destroyed. During the same period, 300 blacks were murdered, mostly by the barbarous "necklace" method. The killing and mayhem has never stopped and latest statistics show that 56 persons per day are being murdered in South Africa, not to mention the rapes, armed and transito robberies, hijackings and house breaking. Two million crimes are being committed annually of which less than half are ever solved, because the police are incompetent and themselves corrupt.
Source:
http://www.hnp.org.za/site/index.php?id=67
Its widely known but seldom reported that Mandela was not just a communist, but a raving Stalinist. He acknowledged writing the pamphlet as a translation of a work by Liu Shaoqi custom tailored for an African audience. I think when the Soviet Union collapses, along with all the money and support that organizations like the ANC relied on, he had a "come to Jesus moment" and realized that without a powerful patron like the Soviet's, a communist South Africa wasn't in the cards and he steered the country on a more "mainstream" path.
It wasn't world pressure that got Mandela released, it was the threat of economic collapse by the IMF that did the job and Oppenheimer admitted that he was the "engine behind the ANC." Oppenheimer, the Rothschilds and the IMF had different ideas, they had been promoting "live martyrdom" using the UN and Nelson Mandela to divisively change world views and ideologies and it worked. So many people simply don't know the truth and when confronted by it, turn off. It's too far outside the mainstream media and educational system programming/indoctrination.
Source:
http://www.abovetopsecret.com/forum/thread757950/pg1
Download
How to be a good Communist by Nelson Mandela
Many of his apologists optimistically claim that Mandela may well have had "communist leanings" in his past, but that he has since put all that behind him and become a moderate in his political beliefs. They are perhaps unaware of his fulsome praise of a communist dictatorship as late as 1991 when he and Winnie went to what they called their "second home" - Cuba - to celebrate the communist revolution with Fidel Castro. In his speech Mandela said:
"Long live the Cuban Revolution. Long live comrade Fidel Castro... Cuban internationalists have done so much for African independence, freedom, and justice. We admire the sacrifices of the Cuban people in maintaining their independence and sovereignty in the face of a vicious imperialist campaign designed to destroy the advances of the Cuban revolution. We too want to control our destiny... There can be no surrender. It is a case of freedom or death. The Cuban revolution has been a source of inspiration to all freedom-loving people."
Mandela's adulation of Castro and Cuba almost outshines that of his own admirers. In May of 1990 Mandela, visiting America, went on record, referring to Cuba:
There's one thing where that country stands out head and shoulders above the rest. That is in its love for human rights and liberty.
A week later in Libya, he lauded Qaddafi's:
Committment to the fight for peace and human rights in the world.
While in America Mandela also made public statements that amounted to support for violence and terrorism in the furtherance of political aims. In a speech in Harlem, referring to four Puerto Rican terrorists who shot and wounded five US Congressmen in 1954, he said:
We support the cause of anyone who is fighting for self-determination, and our attitude is the same, no matter who it is. I would be honored to sit on the platform with the four comrades you refer to.
Source:
http://www.realnews247.com/how_to_be_a_good_communist.htm
http://www.sunray22b.net/mandela.htm
Former South African President Nelson Mandela and former President Fidel Castro in Cuba during 1991. Mandela praised the role of Cuba in the liberation of southern Africa.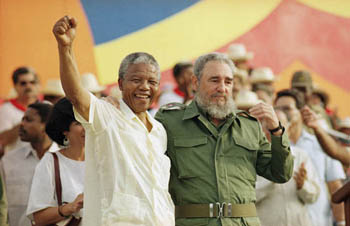 Mandela and Castro on the Moncada Barracks to celebrate the Attack on the Moncada Barracks, 26 July 1991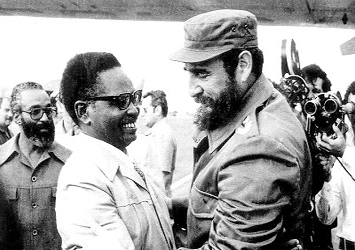 On 26 July 1991 Mandela attended a massive rally to celebrate the Attack on the Moncada Barracks. Cubans paid tribute to the South African leader, who was the first speaker to address them, followed by Castro.
Former Cuban President Fidel Castro sent a force of 40,000 Cuban troops to Angola. Fidel said eventually more than 300,000 Cuban soldiers and 50,000 technical helpers served in Angola — "all of them volunteers".
JOHANNESBURG, South Africa, September 12, 2008 – Former Cuban President, Fidel Castro, has received South Africa's 2008 humanitarian award, becoming the first non-African to be given the honour.
The National Heritage Council of South Africa said in a statement issued yesterday that Mr Castro, 82, will receive the third Ubuntu Award "for the role he played in the Cuban revolution and worldwide contribution to the struggle for an alternative, just and human society".
Former South African President Nelson Mandela was the first recipient of the Ubuntu Award in 2006, while 2007's winner was former Zambian President Kenneth Kaunda.
South Africa cancels R1,1bn Cuba debt, unveils credit package
A debt of R1,1-billion owed by Cuba for diesel engines bought from South Africa during the 1990s was cancelled on Tuesday, the Presidency said.
"It is not as if Cuba could not repay the debt. The problem is that it was becoming a hindrance to trade and economic development between two countries," Trade and Industry minister Rob Davies said in a statement issued by the presidency.
"South African businesses demanded cash in advance because the Export Credit Insurance Corporation of the DTI could no longer insure Cuba's orders as it had exhausted its credit limit," he said.
Davies signed the agreement on Tuesday.
Minister of Home Affairs Nkosazana Dlamini-Zuma also signed an agreement on the waiver of visa requirements for holders of diplomatic, official and service passports. This would allow citizens with relevant travel documents to enter and remain in both countries for up to 90 days without visas.
These agreements came after President Jacob Zuma announced on Tuesday that a R210-million credit line package for Cuba had been finalised, and was aimed at boosting economic ties.
"One aspect of the package is the extension of credit guarantees to Cuba, to the value of seventy million rand," Zuma said in a speech prepared for delivery at the SA-Cuba business forum in Havana.
"This facility from our government's Export Credit Insurance Corporation will insure South African suppliers for exports to Cuba. The modalities of this, including the products, coverage and other issues are being finalised at a technical level," he said.
Zuma additionally announced a R40m contribution towards Cuban agriculture for reconstructive efforts following a destructive hurricane in 2008.
"We will also make available R100-million from our African Renaissance Fund for purchases from South Africa... These facilities will help us remedy a worrying situation as South African exports to Cuba had fallen from R82-million in 2008 to only R1-million this year, in 2010," he said.
For more photographs of Mandela with his friend Gadaffi click HERE
Nelson Mandela's love for his "Brother Leader" Colonel Gaddafi
Embracing Gaddafi as he stepped off the plane with his harem of female bodyguards (video below), the venerated Nelson Mandela would go on to toast his "brother leader" in a speech where he denied South Africa would ever "turn its back" on Libya:
I shall therefore take the liberty to invite our guests to rise and raise their glasses with me in salute to Muamar Qaddafi, our Brother Leader of the Revolution of the Libyan Jamahariya
To see the video click
HERE
Colonel Gaddafi's support for the anti-apartheid struggle ensured a warm friendship with his "brother leader" Nelson Mandela.
Republic of South Africa President Jacob Zuma with Libyan Leader of the Revolution Muammar Gaddafi during a state visit in Tripoli on May 30, 2011. Zuma representing the African Union called for an end to NATO airstrikes.
South African President Jacob Zuma with Libyan leader of the revolution Muammar Gaddafi during a state visit to Tripoli. Libya has once again accepted the African Union peace plan for the country.
Sources:
http://www.caribbean360.com/index.php/news/13809.html#axzz2Ewqr0lzx
http://www.sahistory.org.za/topic/cuba-and-struggle-democracy-south-africa
http://panafricannews.blogspot.com/2009/02/cuban-revolution-and-liberation-of.html
http://www.flickr.com/photos/53911892@N00/5783178806/
http://panafricannews.blogspot.com/2011/08/south-africa-continues-hostility-toward.html
http://www.abovetopsecret.com/forum/thread757950/pg1
http://archive.org/details/HowToBeAGoodCommunist